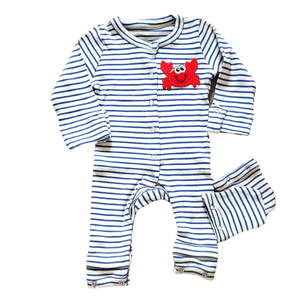 Blue Grow With Me Adjustable Baby Clothes For Boys Happy Crab Patch
Sale price Price $35.00 Regular price Unit price / per
Our Grow-Baby-Grow expandable baby clothing lasts you 3X longer so that you can provide your baby with clothes they'll love to wear, that can be used from the time you bring them home, up to their first birthday. 

 How it works 

The detachable booties are used to adjust the length of the jumpsuit legs which have 2 sets of snaps.

As the baby grows, you can move the booties from the upper snaps to the bottom snaps.
Because we use 100% organic knit cotton, the material stretches more than regular baby jumpsuits to even adjust to bigger babies.