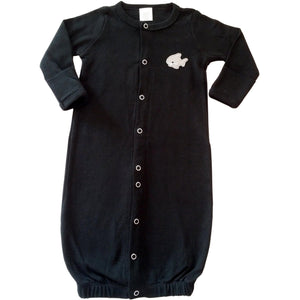 Convertible Black Night Gown Baby Clothes For Boys & Girls
Sale price Price $26.00 Regular price Unit price / per
* 100% ultra-soft knit cotton gowns that convert to jumpsuits just by moving snaps. The sleepwear and playwear ( 2-in-1) are CPSIA certified, flame retardant and made from all natural fibers!
* The hands have foldable mittens to prevent newborn babies from scratching themselves and can be folded back when you want your baby's hands to be out.
* The material is suitable for use in any moderate climate.
* Adorned with cute embroidered shark patches that are hand stitched and personalized to each gown.
 * Available in one size of 0-6 months only. Hand wash is preferable. However, bleach and ironing is not recommended..